DENTAL TECHNOLOGY
In order to provide nothing but the best to our patients, our office uses state-of-the-art technologies in all our procedures. These new technologies allow us to treat dental cases with extreme precision, detect dental concerns at early stages, and provide stunning and customized restorations. When you visit our office you can be confident that you are receiving on the finest and most advanced in dental care.
We proudly offer and use the following advanced equipment:
X-RAYS AND DIGITAL X-RAYS
X-rays are a focused beam of x-ray particles passed through bone which produce an image on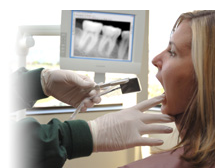 special film, showing the structure through which it passed. This provides the familiar black and white images doctors and dentists use to diagnose problems and disease. Without an x-ray of the whole tooth and supporting bone and gum tissues, there would be no way to detect infection or pathology that requires attention.
In our office we use digital radiography which allows us to take x-rays using up to 90% less radiation than conventional film x-rays. Using this technology, we are able to take an x-ray of your mouth by using a small sensor which records the image of your teeth and sends it to a computer. The result is a highly detailed image of your mouth that can easily be enhanced to better diagnosis dental concerns and determine the very best treatment for each case. Back to top
INTRAORAL IMAGING
We use small cameras about the size of a pen, called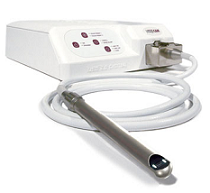 intraoral cameras, to help clearly see the condition of your teeth and gums. With this advanced technology we can zoom in on small diseased areas, cracks, chips and worn metal fillings with extreme precision. The full-color images taken with the intraoral camera are sent to a computer screen so we can clearly see and diagnose dental problems much earlier than with traditional dental technology. Because images are displayed on our screens, patients will also be able to see areas being worked on and are able to gain a better understanding of dental procedures being performed. Back to top
TELESCOPIC LOUPES
The dentist performs most of his dental procedures while wearing a pair of funny looking glasses called surgical telescopes. These powerful glasses have magnifiers on them, allowing the dentist to see fine details that would go unnoticed to the naked eye. Back to top
---
1024 N Maclay Avenue
Suite 3
San Fernando, CA 91340
(818) 365-8653 phone
(818) 365-8514 fax
Se habla español y portuguese
< body>< body>< body>